Franklin Don Romines
President
Romines Motor Co, Inc.
  Robert J. Romines
Retired
Romines Motor Co, Inc. 



Tyler J. Romines

Secretary - Treasurer

Romines Motor Co, Inc.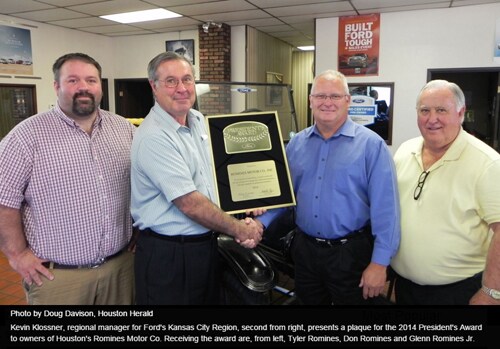 Romines Motor Company, Inc. was founded in 1933 by Glenn Hubert Romines, Sr. and Vera Romines.  Our commitment to quality service and products now extends to a third generation with the addition of Tyler Romines in 2002.The Dealership was originally located on the corner of Grand Ave and Main Street, then later at 115 Mill Street, in Houston, Missouri.  Over the years, we have forged a strong bond with our customers through mutual respect and by exceeding their expectations.
A milestone was reached in 1984 when Romines Motor Company built a new facility located at 1100 South Sam Houston Blvd, in Houston, Missouri.  This expansion enabled all of Romines Motor Company employees to unite at one location to better serve the community and our customers.  Romines Motor Company is able to provide full service to our customers including the sale of the initial vehicle, parts and service needs and collision repair in case of an accident.
Our association with Ford Lincoln products has been a long and successful endeavor.  Through the ensuing years we have learned that meeting our customer's expectations through friendly service and providing quality merchandise would be keys to our success.
Romines Motor Company began and has remained a family owned and operated dealership for three generations.  We are committed to customer satisfaction and the success of our community and have been since being ESTABLISHED IN 1933.  Come in and visit with one of our sales or service professionals and see why we have been in business for over 83 years.
Don, Bob, and Tyler Romines